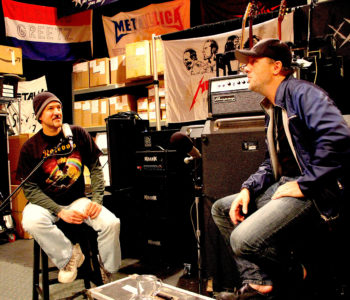 Bob Nalbandian is the man behind the early 80s LA Fanzine "The Headbanger" which helped bands such as Metallica and Slayer and many others get exposure in their early days of being a band. Bob has gone on to work in many facets of the music industry from A&R and Marketing for several record labels to in more recent years Directing, Writing and Producing various metal documentaries. Bob has launched several LA Metal documentaries under the Inside Metal series, the Band vs Brand Documentary and hosts the Shockwaves Skullsessions Podcast. Bob is currently working on the upcoming Bay Area Godfathers documentary due out in early 2020.
Show notes
Follow Bob Nalbandian on
Facebook
|
LinkedIn
|
YouTube
Listen to Shockwaves Skullsessions on all good podcast players and follow on 
Facebook
|
Twitter
Check out the Inside Metal Documentaries
Main Website
|
Facebook
|
Amazon (Pioneers Of L.A. Rock And Metal)
|
Amazon (The LA Metal Scene Explodes)
|
DVDs here
|
YouTube
| Learn more about Band vs Brand Documentary
here
| ...
Read More