With his 30 years+ in the industry, Johnny Dee has not only seen himself with the great Doro Pesch but has also been an integral part of 80s bands Waysted and Britny Fox. He's played Tokyo Dome, toured with Iron Maiden, hit arenas all through North America and played in front of thousands at almost every illustrious metal and rock festival in the world. He's pretty much done it all and continues to heavily tour more than ever.
I first met Johnny in 2005 at the Bang Your Head Festival in Germany before playing together in Japan in 2010 for the Doro/Jaded Heart/LORD tour. Over the years we've kept in touch and it was a thrill to be able to spend a chunk of time learning more about what he's achieved over the past several decades as well as hear some incredible stories.
Both musicians and music fans will get a real kick out of this. Johnny shares his perspectives going through some of the dramatic and overwhelming moments in his life as he transitioned from hand written resumes and living at home as a local musician to travelling to the UK, playing with Maiden, getting an almost platinum album, large North American arena tours with Poison, playing Japan with Bon Jovi, joining the Doro Pesch ranks and becoming an integral part of German metal for the past 20 years+. An incredible journey that is showing no signs of stopping anytime soon.
Be sure to check out all of the bands and projects that Johnny has been a part of and follow him on the socials!
Show notes
Follow Johnny Dee on Facebook | Instagram | Twitter |
Doro – Main Website | Facebook | YouTube | Twitter |
Britny Fox – Facebook |
KICK – The INXS Experience – Main Website | Facebook | Twitter |
Cover photo by Savoia Concert & Event Photography
EP100 of The Andy Social Podcast features Johnny Dee @dee_drums of @DoroOfficial, Britny Fox and more! Listen on Apple, Android, YouTube and https://t.co/T0I2KLxt71 #PodernFamily pic.twitter.com/vC3rrsG5LR

— Andy Dowling (@AndyDowling) October 12, 2017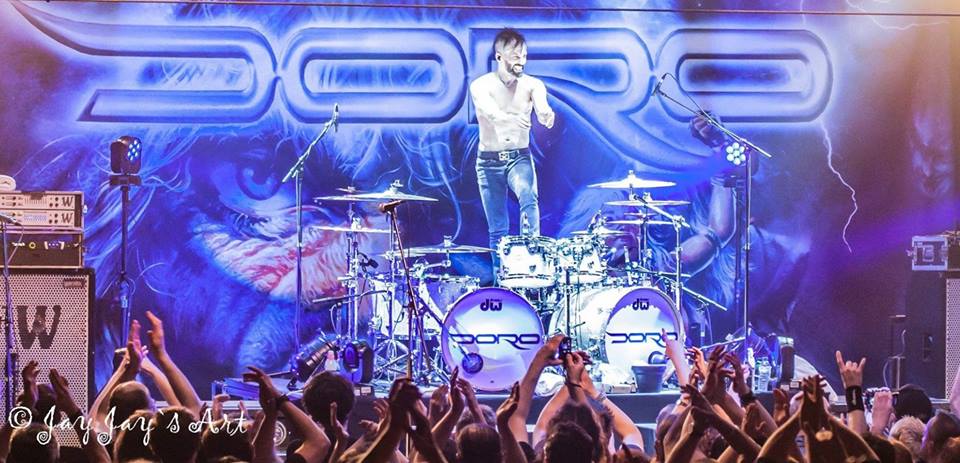 Photo by Jay Jay's Art