Philip Nitschke became a household name in the 90s when he became the first doctor in the world to administer a legal, lethal voluntary injection to a patient under the short-lived "Rights of the Terminally Ill Act 1995". Within a year the law was overturned and Philip went on to commence his campaigning for assisted dying, not only for the terminally ill but for those of sound mind to make their own decisions of when to end their life.
Exit International (Previously known as the Voluntary Euthanasia Research Foundation) was founded by Philip and their vision states "every adult of sound mind has the right to implement plans for the end of their life so that their death is reliable, peaceful and at the time of their choosing". Due to the sensitivity of the topic, Philip and the organisation have received heavy criticism over the years often coming face to face with not only government legislative obstacles but also religious organisations and sections of the media.
I remember Philip Nitschke as 'Dr. Death' – A name that he was labelled with through the media and while I didn't know a lot about the topic as a child, I certainly do recall the intensity of the issue and the dark lens that was placed over him and Voluntary Euthanasia. Death is often placed in a negative light and something to be feared of. Of course this meant for me that Dr Death was a bit of a fearful character that was portrayed to me in those earlier years.
More recently I was reintroduced to Philip through Dr David Goodall, the 104 year old Botanist and Ecologist who made the decision to end his life. Unfortunately because of the current laws in Australia, Dr Goodall had to travel to Switzerland to have his wishes granted on 10 May 2018. The story became world news and with Philip helping Dr Goodall fast track his application in Switzerland, he and the topic came back into spotlight once again.
Given the recent media attention and keeping in theme of having a wide variety of guests and discussions on The Andy Social Podcast, I knew that I had to get in touch with Philip. Thankfully he agreed and he is now one of the many fascinating guests who I've had the pleasure to speak with candidly.
Philip and I spoke about the recent David Goodall story, we reflected on his time in the Northern Territory when the world had their eyes on Australia's (at the time) progressive actions. We also spoke about the stigma and challenges surrounding the word 'suicide', the battles he has had with the medical board in Australia, stories from some of the individuals who Philip has come into contact with over the years and much more.
The subject is complicated and often blurred by subjective and emotional opinions. While I sometimes think that some of Philip's approaches and statements over the years have been shocking on the surface, it has challenged the way that I view life and our rights as individuals. Like many of us, we have experienced and had contact with people in our lives who have suffered and lived a quality of life that is unacceptable. Providing people with an option to make a rational decision at a certain stage of their lives gives individuals dignity and control over how they would like their last moments to be.
Wherever your opinions may sit, I hope this sparks some thought and discussion amongst your friends and family. Quite possibly its time to take a different view on how we portray death and the freedoms that people may require in later stages of life.
To learn more about Philip Nitschke's work and Exit International, please follow the links below.
Show notes
Follow Philip on Facebook | Twitter | Learn more via Exit International Profile and Wiki |
Philip's Autobiography – Damned if I Do
Discover Exit International via Main Website | Twitter | Facebook |
Learn more about Euthanasia in Australia
Legislative Assembly of the Northern Territory – Select Committee on Euthanasia
Discover Andrew Denton's Better Off Dead Podcast Series presented by the Wheeler Centre
Article – David Goodall ends his life at 104 with a final powerful statement on euthanasia – ABC News
Article –  The Fight to End a Life – Sydney Morning Herald from 1996
Article – Former chief minister Marshall Perron blasts Northern Territory's Federal MPs for "shirking their responsibilities" over voluntary euthanasia – NT News
Article – Max Bell – Exit International
Article – Philip Nitschke condoned suicide of Perth murder suspect Nigel Brayley: lawyer – Perth Now
Article – Meet the Elon Musk of Assisted Suicide, Whose Machine Lets You Kill Yourself Anywhere – Newsweek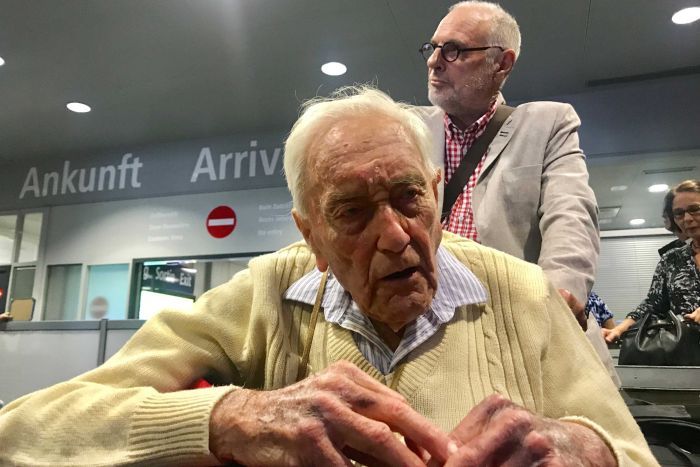 Philip with David Goodall at the airport in Basel Switzerland – Photo by ABC News Charlotte Hamlyn