Band whore extraordinaire, Andrew Craig is well known within the Australian metal scene with his work with various bands over the last several years. Andrew not only is the drummer in Sydney band Rise of Avernus but is also doing a stint with black thrashers Bastardizer, taken on the task of light man for sleepmakeswaves on Australian tours, booking his promotions company and booking own tours for Australian and international acts and funnily enough is also a primary school teacher.
Andrew is one busy guy and never appears to show any signs of stress/insanity along the way. Always with a smile on his face, Andrew simply gets out there and gets the job done. In our casual drunken chat (yes, there were a few beers – probably not the best way to do my first guest podcast episode!), we talk about all the various roles he takes on and how he balances that with his teaching career. We discuss (or dribble) the challenges that he faces as well as the benefits that he's able to get from both worlds that he lives in. Somehow, Andrew appears to make it all work and continues to help break down the stereotypes associated with the old long haired heavy metal musician!
I hope you enjoy this episode and take my lack of conversation/interviewing skills with a huge grain of salt. I've been lucky to know Andrew for quite a few years and I couldn't think of anyone better to lose my podcast virginity to. I had so much fun that I committed to having him back for episode 600 (lets see if that happens!). Enjoy the slurring and have a laugh!
Show notes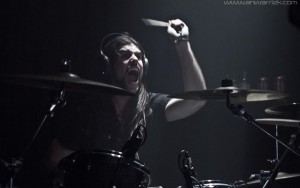 Rise of Avernus – Official Website
Buy Rise of Avernus music from Amazon which also supports this podcast!
Rise of Avernus – Facebook
Rise of Avernus – YouTube
Cryptorian Entertainment – Facebook
Bastardizer – Facebook
sleepmakeswaves – Official Website
sleepmakeswaves – Facebook